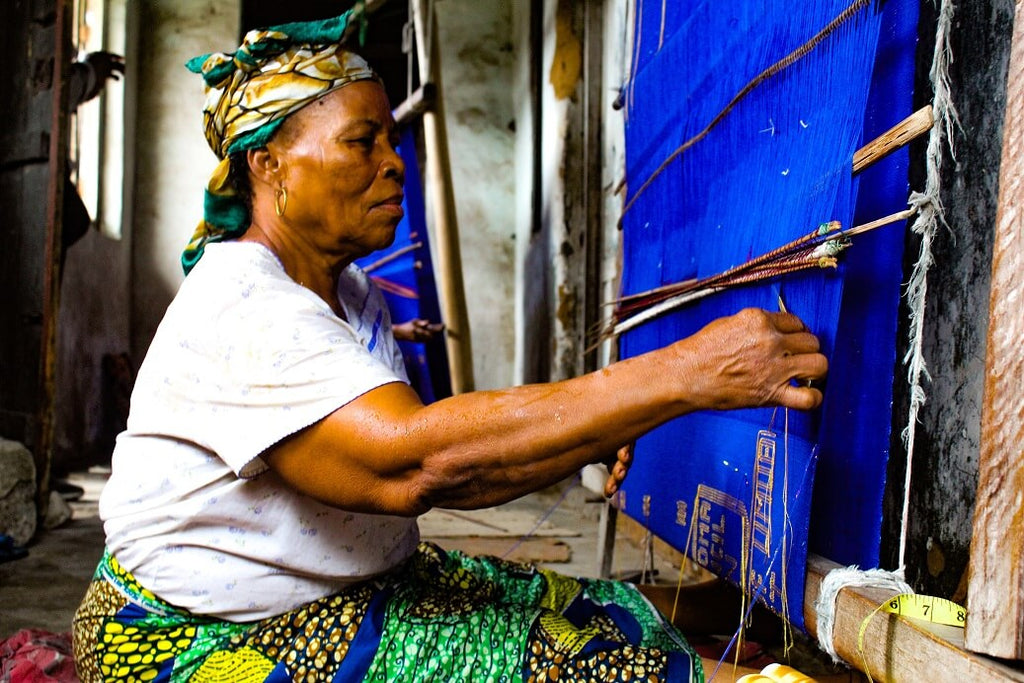 How Eco-Friendly Clothing is Making a Difference
By Ashley Mingesz
on
Sep 25, 2019
When sustainability is our goal, the most effective thing we can do is put our money where our values are.
Lowering our carbon footprint starts at the individual level. When sustainability is our goal, the most effective thing we can do is put our money where our values are. Buying fair trade and eco-friendly clothing casts a wide reaching net that touches more than the environment. The many people around the world who produce the clothing we wear are affected in a positive way as well.
It may surprise you to know that the textile industry is one of the largest contributors of pollutants in the world! According to the European Parliamentary Research Service, the 2017 Pulse of the fashion industry report has some interesting findings. In 2015, the global textiles and clothing industry was responsible for the consumption of 79 billion cubic meters of water, 1.7 billion tons of CO2 emissions and 92 million tons of waste.
They estimate that without a change in practices those numbers will increase by at least 50% by 2030. From the farming process, to the amount of water used, and the chemical waste produced during the dying process, the clothing we wear has a large impact on our environment.
Roughly 15% of the fabric used by the fashion industry is wasted. And this figure is only representative of the scraps leftover from the cutting process. Far more is wasted because of overproduction, and designer brands incinerating their excess finished product in order to keep it from being sold at a discount. To counteract the cutting waste problem, a new movement called zero waste fashion is creating innovative patterns to eliminate waste from cutting garments.
Consumers are responsible for the clothing waste problem as well. We are throwing away shoes and clothing (instead of recycling), an average of 70 pounds per person, annually. Up to 95% of the clothing destined for landfills each year can be recycled.
Still though, while the majority of our unwanted clothes are wasted, a large amount is recycled. The US is the greatest exporter of used clothing at over a billion pounds a year to 70% of the world who predominately wear used clothing. There is definitely room for improvement on the part of consumers to ensure their unwanted clothing doesn't go to waste. 
Many clothing companies are committed to social and environmental sustainability. There are some great resources to find brands who represent an eco-friendly and sustainable business model. The Responsible Shopper website allows you to look up and compare social and environmental information, and policies from some of the most popular brands. The National Green Pages is another resource that directs consumers to dozens of eco-friendly clothing brands. Making socially and environmentally conscious decisions have never been easier!
In order to make clothing sustainable, many companies are reducing the impact humans have on the environment in some really exciting ways. It's no secret that eco-friendly clothing is a bit more expensive, but you are paying for more than peace of mind. 
Farmers who grow the raw materials take great care to produce crops using minimal water and pollutants. This requires the use of more expensive natural products that won't damage the environment. The entire process of creating eco-friendly textiles is done on a smaller scale, in specially designed facilities, where workers are paid a fair wage, and harmful chemicals and water usage is kept to a minimum.
Eco-friendly clothing manufacturing means taking into consideration the care of everyone involved, including the individual people working to create each piece of clothing. The fashion industry has long been associated with low wages and poor working conditions in countries around the world. Fair trade practices hold businesses to a higher standard when it comes to the workforce and facilities used.
The World Fair Trade Organization  (WFTO) is spread across 76 countries. They are a global community of businesses that partner with companies who uphold the 10 principles of fair trade. Not only do they verify fair trade enterprises, their organization individually audits each member to ensure their entire process meets the requirements.
They represent the only international verification model focused on social enterprise that puts the interests of workers, women, refugees, marginalized communities, farmers and artisans first. 
Deadstock 
The number one way for a clothing company to reduce its carbon footprint is to recycle and upcycle existing fabric. That means using deadstock from bulk material production by other designers that would otherwise not be used, and likely end up in our landfills. When a company creates new unsustainable garments rather than using existing fabric that is available this only exacerbates the problem. 
Some well known brands like Burberry, H&M, and Nike have long held the practice of slashing or burning deadstock and unsold finished merchandise to retain the brand's scarcity. However, recently these companies have given transparency and vowed to stop this practice. For example, Burberry plans to keep 130 million tons of scrap leather out of landfills in the next 5 years in favor of creating new pieces with the material.
Many companies do allow the manufacturer of the fabric to keep and resell the leftover material. This is the fabric that sustainable clothing companies use to make their small batch clothing lines.  
Sustainable clothing brands love deadstock fabric because absolutely zero water and energy are used to produce new material. These companies run their designs in small batches to ensure there aren't any leftover garments and they do the work to find out what customers will seek out from season to season. 
Hemp 
Hemp is one of the most sustainably produced fabrics available. New legislation has allowed the production of hemp to skyrocket in recent years and now the once hard to come by fabric is widely available to eco-friendly clothing brands.
Hemp has a long history of being used in textiles and has been cultivated for thousands of years on almost every continent. This plant is naturally insect and competition resistant, making pesticides and herbicides unnecessary for its production. Compared to cotton, hemp uses ¼ of the water in its production and is gentle on the earth, returning 60-70% of the nutrients it uses back to the soil. When buying clothing made from fair trade hemp you are doing your part to restore farmland, reduce water consumption and combat climate change. 
There are some truly innovative and fashionable clothing companies who are committed to sustainable and fair trade fashion. Environmentally friendly clothing has come a long way in the past 10 years. The aesthetic options are impressive, and wearing hemp fabric no longer means looking like a hippie (unless you want to of course). There are even a few mainstream brands on the list who are setting the standard for big companies to make a big impact.
Nomads Hempware started in the year 2000, in the back of a van with a few rolls of fabric. They are now an international company stretching across almost every continent. The difference in Nomads hemp, bamboo and organic cotton clothing to some of their competitors, is style and versatility. They offer products for women and men, and the hemp fabric they use is soft, fashionable and durable.
This is one company that has a wide variety of choices and focus on more than just a few things. Some of our favorites are active wear, intimates, yoga, and jewelry.
Nomads take the fair trade aspect of sustainability very seriously as well. While they do have some manufacturing done in China, they only work with environmentally friendly companies who provide their workers with fair pay, and safe working conditions.
Oh Seven Days is a clothing brand based in Istanbul, one of the textile manufacturing capitals of the world. Because of their location, Oh Seven Days has access to a variety of choices for their material. This sustainable brand exclusively creates their clothing from the runoff and unused material that nearby factories would eventually send to a landfill. 
The brand offers only women's clothing in functional, stylish basics. The pieces are truly beautiful, wearable and rival anything in high-end department stores. They promote "slow fashion" meaning carefully selecting pieces you will wear year after year, which will stand the test of time. Because of the limited amount of upcycled fabric in each design, they produce only seven different designs per collection, making each garment limited edition.
This may be the most recognizable name on the list. This brand is respected and sought after for quality, and they stand behind fair trade and sustainability.
Their shoes are loved by all ages and are definitely an enduring staple for fashion conscious shoppers and workers in need of reliability and comfort.  
Dock Martin uses only leather that is a by-product of the meat industry and would otherwise be disposed of. There is a great emphasis put on making sure the materials are sourced responsibly. Their packaging is made using 100% recycled material and printed with soy ink which is solvent free and easily recyclable.
Toms is another big company making a big difference. In the western world, we don't always consider how hard shoes are to come by for growing children in need around the world. Kids outgrow their shoes quickly, and Toms does its part to help as many of these children as possible. For each pair of shoes purchased, Toms donates a pair of shoes to a child or teenager across 20 countries. To date over 93 million pairs of shoes have been donated. 
In 2018 they reached 5 million in donations to organizations working to end gun violence and the passing of universal background checks. They also commit large donations in the fight to end homelessness and the equality and empowerment of women.
Every time we make a conscious decision to support an eco-friendly business with our purchases, we become a part of positive change. When we all do our own small part, together we have a great impact! 
Tell us about your favorite eco-friendly clothing brand!