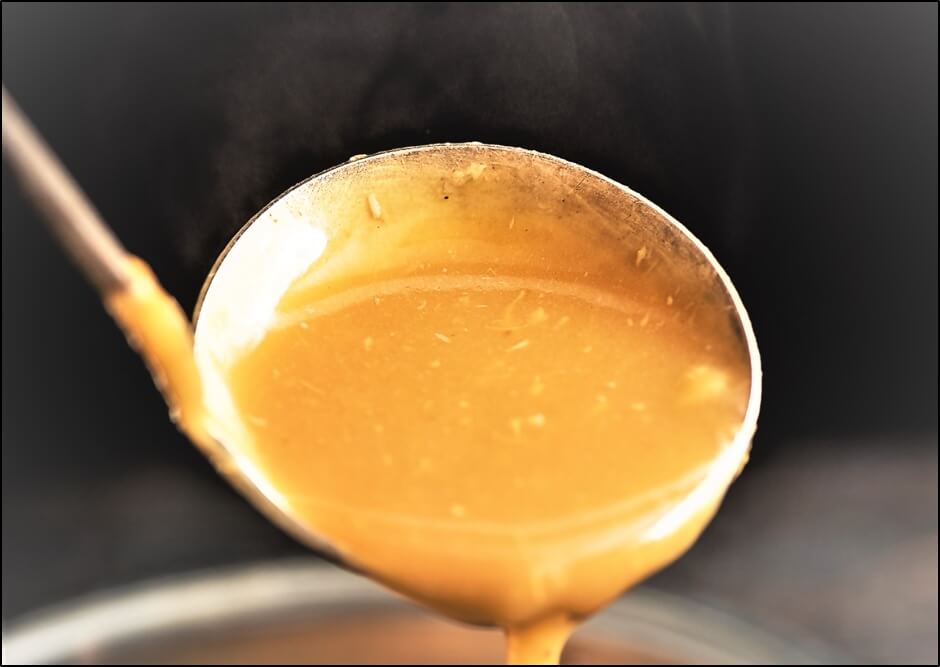 Vegetarian Gravy and Mushroom Bourguignon
By Chef Perry
on
Nov 21, 2019
This recipe is so versatile and can be used as the first step for practically any soup, stew, or gravy. Use this as a delicious gravy over pasta, rice, your favorite meat alternative, or as a base for an amazing root-vegetable stew.
I love this recipe.
It's so versatile and can be used as the first step for practically any soup, stew, or gravy recipe. 
The addition of Exo Cricket Powder not only adds a delicious, rich, and smoky flavor, but it transforms a simple roux into a protein-packed entrée…no meat required!
Use this as a delicious gravy over pasta, rice, your favorite meat alternative, or as a base for an amazing root-vegetable stew. (Like the one below!)
We start with a Roux...
Roux ("roo") is a cooking mixture of flour and fat (usually butter, or lard), used as a base to thicken and flavor soups, sauces, and casseroles. It's roots date back more than 300 years in French cuisine.
Made by combining and cooking equal parts flour and fat, and cooking until the raw flavor of the flour cooks out and the roux has achieved the desired color, a properly cooked roux imparts silky-smooth body and a rich, nutty flavor while thickening soups and sauces. 
Ingredients: 
½ C sweet cream butter

¼ C fine white flour

¼ C. Exo Pure Cricket Powder

1 tsp. sea salt

1 tsp. powdered garlic

½ tsp. black pepper

4 cups hot vegetable stock (see below)
Seasoned flour: Combine flour, cricket powder, salt, garlic, and pepper.
Melt your butter in a heavy bottom stock pot over medium heat. When the foam has cooked off the butter, add seasoned flour and whisk vigorously to a smooth paste. This is called a "roux."
Continue whisking slowly until roux becomes deep brown in color. You know when your roux is done by the roasted nutty smell it imparts.
Add the hot stock, one cup at a time (the first will create a thick paste...press on) whisking in each cup until smooth.
Once all your stock in incorporated, keep whisking at a lower simmer for 10-15 minutes.
Add hot water or milk as needed (1/4 cup at a time) until you reach the desired consistency. (Your gravy will thicken as it cools, so it's best to start out a little thin.
Taste and add salt and pepper as desired.
Vegetable Stock
1 tablespoon olive oil

1 large onion

2 stalks celery, including some leaves

2 large carrots

1 bunch green onions, chopped

 8 cloves garlic, minced

1 C dark roasted mushroom slices

8 sprigs fresh parsley

6 sprigs fresh thyme

 2 bay leaves

1 teaspoon salt

 2 quarts water
Directions :
Wash veggies and chop into 1-inch chunks. 
Heat the oil in a stock pot. Add the veggies and herbs, and simmer over high heat for 5 to 10 minutes, stirring frequently.
Add the salt and the water and bring to a boil. 
Lower the heat to medium low and simmer, uncovered, for 30 minutes to reduce. 
Strain through a fine sieve and discard the solids.
Use the stock according to to your recipe instructions.
Chef's Note: If you'd rather not go to the work of making your own stock (and you should really try it!) Better Than Bouillon makes a fantastic line of all-natural vegetable stock bases, that I've used many time, and can whole-heartedly endorse!
Roasted Vegetable Bourguignon
1 Tbsp. extra-virgin olive oil 

1 large white onion, diced

2 large carrots, peeled and sliced 1-inch thick

3 stalks of celery, chopped

6 cloves garlic, minced (divided)

1 pinch coarse salt and freshly ground pepper

2 Tbsp. flour

12 small pearl onions (optional)

2 cups red wine (merlot of burgundy)

3 cups Perked-Up Veggie Stock

2 Tbsp. tomato paste

1 large sweet potato, peeled and cubed large

1 large parsnip, peeled and cubed large

½ lb. fresh beets, peeled and halved.

½ lb. small yellow potatoes, scrubbed and halved.

1 teaspoon fresh thyme, finely chopped

¼ cup fresh parsley, finely chopped (divided)

2 bay leaves

1 pound fresh button mushrooms

2 Tbsp. butter
Instructions: 
Preheat oven to 350°F  
Heat the oil in a large Dutch oven or cassoulet pot. Sauté the carrots, celery, and diced onions until softened, (about 3 minutes), then add 4 cloves minced garlic and cook for 1 minute.
Drain excess oil (leave about 1 Tbsp. in the pan) and season with 1/2 teaspoon coarse salt and 1/4 teaspoon ground pepper. Sprinkle with flour, stir well and cook for 4-5 minutes to brown.
Add the pearl onions, red wine and enough stock so that the solid are barely covered.  
Then add the tomato paste and herbs and stir to combine. Cover, transfer to lower part of the oven and simmer for 30 to 45 minutes, or until the veggies are soft. Remove from oven and set aside. 
Toss the sweet potatoes, parsnips, beets, and potatoes with olive oil, salt, and pepper.  
Roast for 30-45 minutes, until cooked through and golden brown.  
In the last 5 minutes of cooking time, prepare your mushrooms:
Heat the butter, along with 1 Tbsp of olive oil, in a large skillet over medium heat.  
When the foam subsides, add the remaining 2 cloves garlic and cook until fragrant (about 30 seconds) stirring, then add in the mushrooms. Cook for about 5 minutes, shaking the pan to coat with butter. Season lightly with salt and pepper (optional).
Once your mushrooms are well browned, set aside.
Remove the Dutch oven from the oven and carefully pour its contents through colander and into a bowl to remove the solids.
Defat the broth that remains in the bowl, and reserve. 
Return the veggie mixture back into the Dutch oven or pot, then add the roasted mushrooms, the de-fatted stock, and the roasted root vegetables.  
Simmer for a minute or two, skimming off any additional fat that rises to the surface. 
If the sauce is too thick, add a few tablespoons of stock. If the sauce is too thin, boil it over medium heat for about 10 minutes, or until reduced to the right consistency. 
Taste for seasoning and adjust salt and pepper, if desired. Spoon the stew into bowls, garnish with parsley, and serve a nice full-bodied red wine and lots of hot crispy baguette slices! 
Chef's Note: If you'd like to add even more protein to your stew, cube some extra-firm tofu (1-inch cubes), soak in the vegetable stock for an hour, pat dry, and sauté them along with your mushrooms. Lovely! 
To serve later, allow the stew to cool completely, then cover and refrigerate. 
The day of serving, remove from refrigerator for at least an hour before reheating. Place over medium-low heat and let simmer gently for about 10 minutes, basting the vegetables with the sauce.