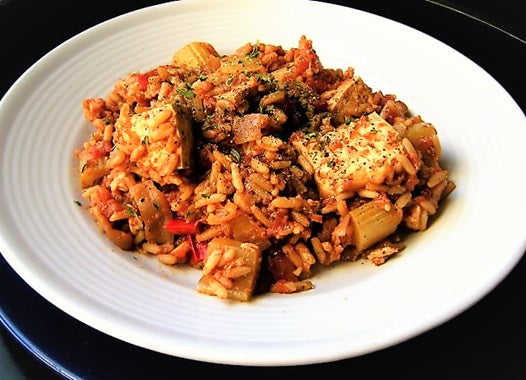 Healthy Vegetarian Red Jambalaya
By Chef Perry
on
Oct 10, 2019
Jambalaya, a peasant dish from Louisiana has its roots in both French and Spanish cuisines. The traditional recipe is made with some meat, seafood, veggies and rice. I've made a plant-based version using seasoned mushrooms and tofu, instead, and it's delicious!
Ingredients:
2 Tbsp. unsalted butter

2 Tbsp. grapeseed oil

½ sweet onion

3 cloves of garlic, chopped

½ red bell pepper, chopped

½ green bell pepper, chopped

1 stalk of celery, chopped

1 carrot, peeled & chopped

2 Tbsp. Creole seasoning

2 Tbsp. Exo Pure Cricket Powder

14-oz fire-roasted diced tomatoes

1 cup uncooked Jasmin rice

3 cups vegetable broth, divided

¼ cup Italian parsley, chopped

3 tsp. hot sauce

1 tsp. Worcestershire sauce

2 bay leaves

1 cup chickpeas canned or cooked

1lb Portobello Mushrooms*

1 lb. Extra Firm Tofu*

1/2+ cup dark brown roux*

4 green onions ,thinly sliced
For the mirepoix: In a large Dutch oven over medium heat, melt butter and combine with olive oil. When hot, add sweet onion, bell peppers, celery, and carrots, and sauté briefly (3-4 minutes). Mix in Creole seasoning, cricket powder, and dry rice. Continue cooking until the rice is fragrant. 
Add diced tomatoes, 2 cups of vegetable stock, hot-sauce, Worcestershire, bay leaves and chickpeas. Stir well.
Bring to a boil, cover, and reduce heat to medium low. Simmer 15 minutes, stirring once.
Make your roux (see recipe, below.)
Sauce: Mix remaining vegetable broth (heated) into your dark-brown roux, 1/4 cup at a time, whisking constantly, until it reaches a very thin-gravy consistency (it will thicken as it cools.)
Chef's Note: Once finished, I like to add a Tbsp. of butter to the sauce and use an immersion blender to mix until silky-smooth. This is optional.
Add the sauce, prepared mushrooms and prepared tofu to the rice, cover again, and cook an additional 10 minutes.
Top with sliced green onions, chopped parsley, and serve with additional hot-sauce on the side.
Roasted Portobellos
1lb Portobello Mushrooms, lg. cubes

2 Tbsp. butter, unsalted

1 Tbsp. grapeseed oil

1 Tbsp. Creole Seasoning

1 Tbsp. Cricket Powder
Preheat oven to 400F.
Toss mushrooms and remaining ingredients in a large bowl. Spread evenly on a baking dish and roast until well browned and reduced in size by half (30-45 minutes). 
Set aside.
Creole Tofu
1 lb. Extra Firm Tofu, 1-inch cube

3 Tbsp. unsalted butter, melted & divided

2 Tbsp. grapeseed oil

1 tsp soy sauce

1 tsp. White Miso

1 Tbsp. Creole Seasoning

1 Tbsp. Cricket Powder
Whisk together 2 Tbsp. melted butter, oil, soy sauce, and miso.
Place the damp tofu in a bowl. drizzle with butter/oil mixture and toss with Creole seasoning and cricket powder. Set aside.
Heat the remaining butter in a large skillet over medium-high heat and brown the tofu cubes on all sides, until golden and crisp.
Drain on paper towels and set aside.
Creole Seasoning
(You can use a bottled Creole Seasoning...but this is better!) ;)
2 tsp. onion powder

2 tsp. garlic powder

2 tsp. onion powder

2 tsp. sweet paprika

2 tsp. sweet paprika powder

1 tsp. dried basil

1 tsp. cayenne pepper

¾ tsp. salt

½ tsp. freshly ground black pepper
Combine all the seasoning ingredients in a spice grinder and reduce to a fine powder. Use the same day.
Dark Roux
1 cup all-purpose flour

1 cup vegetable oil
A dark Cajun roux ("roo") is the secret ingredient in many, many amazing recipes in traditional Cajun cooking. Roux, either light, medium, or dark is an emulsion made by frying equal parts liquid fat and flour together into a thin baste, allowing it to slowly darken as the flour cooks.
French recipes tend to use butter for their roux while Cajun and Creole cooking, which tends to use higher heat, typically prefers oil which, with its higher smoke-point, doesn't burn as easily.
Heat a cast-iron skillet over medium heat (at least 15 minutes), then add your oil.
When hot, add the flour, and stir constantly until the emulsion is smooth, and when it turns tan, reduce heat to medium low and cook to brown, then drop the heat to low and continue cooking to a deep chocolate color, where it will emit a rich nutty aroma.
This last change in color can happen quickly, so don't stop stirring! If even a small amount of the flour burns, you'll have to start over from scratch.
Once you've reached the color and consistency you're looking for, move the pan off of the heat and continue stirring until the pan has cooled enough that cooking stops.
Spoon the roux into a bowl and let cool before using.