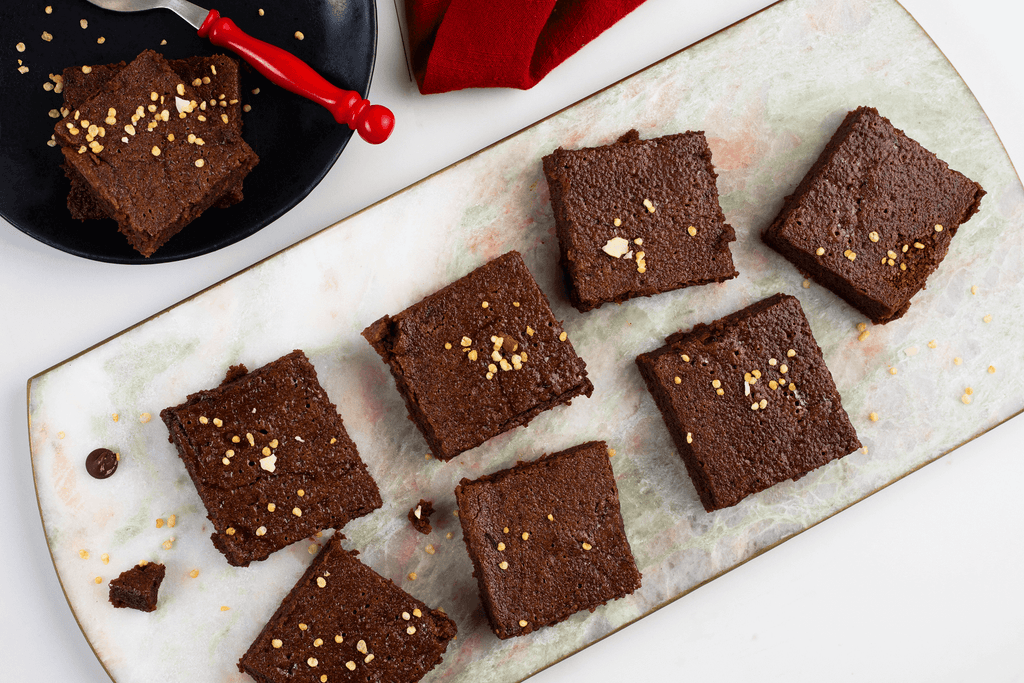 Easy Chocolate Fudge Brownies (Paleo + Keto)
By EXO Team
on
Jun 17, 2019
These tempting, dense and fudgy brownies are very easy to make and perfect for a make-ahead dessert no one can resist. The addition of EXO Pure Cricket Powder adds extra protein and other nutritional benefits. If you like a hint of spiciness, add a dash of cayenne pepper or cinnamon.
INGREDIENTS
3/4 cup (97g) almond flour

2 tablespoons EXO Pure Cricket Flour

1/4 cup unsweetened cocoa powder

2/3 cup monk fruit or another sweetener of choice

3 large eggs, lightly beaten

1 1/2 teaspoons vanilla extract (or 1/2 teaspoon cinnamon)

1/2 cup unsalted butter or ghee

1/4 cup (2 oz/g) sugar free dark chocolate chips

1/3 cup hazelnuts or other nuts of choice, coarsely chopped (optional)

Flaked sea salt or Himalayan pink salt (optional)
METHOD
Lightly grease an 8-inch/20 cm square baking pan, line with parchment paper and set aside.

Combine almond flour, EXO Pure Cricket Powder, cocoa powder, and sweetener in a bowl. Add the lightly beaten eggs and vanilla

Melt the butter, and chocolate chips over a double boiler or in the microwave and let cool slightly, then whisk into the almond flour and egg mixture.

Transfer to the prepared baking pan and sprinkle with chopped nuts and /or flaked sea salt, if desired.  Bake for 18 to 24 minutes or until a cake tester or a toothpick comes out moist.

The brownies will keep in an airtight container in the refrigerator for up to 5 days and in the freezer for up to 2 weeks.
Nutrition Facts
Amount per Serving (55g)

Calories 232kcal 

Total Carbohydrate 13.2 

Dietary Fiber 2.5g 

Total Sugars 1.2g 

Net Carbs 10.7g 

Total Fat 19.1g 

Protein 5.6g 
While we strive to keep the nutritional information as accurate as possible, please make your own calculations with the actual products you use.