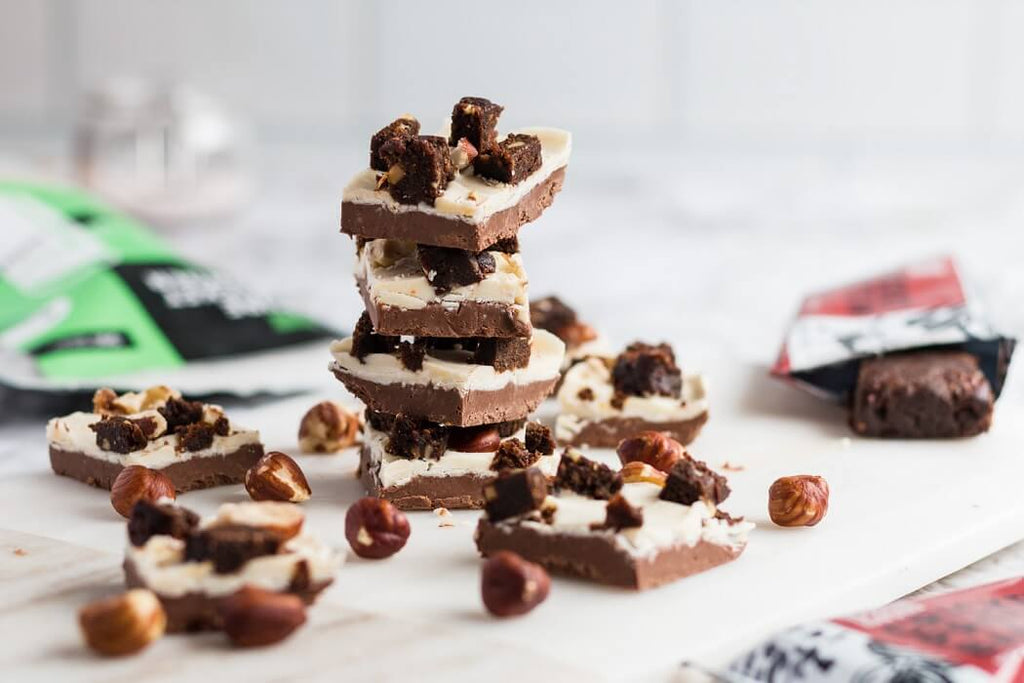 Dark Chocolate Holiday Bark
By EXO Team
on
Dec 03, 2019
For a special treat while hosting during the holidays, whip up this super easy holiday bark that's chocolatey and uses fun and healthy cricket powder! Experiment with your favorite chocolate, nuts, peppermint candies, and add-ins to make the best holiday bark with an extra boost thanks to cricket protein!
Ingredients:
4 oz. 70% Dark Chocolate, chopped

1 Tbsp. EXO Cricket Powder

2.5 oz. White Chocolate, chopped 

(Paleo Option: 1.5 oz. Cacao Butter + 1 oz. Coconut butter + 1 Tbsp. Maple Syrup + 1/2 tsp. Vanilla Extract + Pinch of Salt) 

1/2 EXO Cricket Protein Bar in Cocoa Nut, choppe

d

2 Tbsp. Chopped Nuts of Choice (we used hazelnuts)
Directions:
Melt the dark chocolate in the microwave or in a double boiler. Whisk until smooth and mix in the Cricket Powder. 

Pour the chocolate mixture into a rectangular or square parchment-lined dish. Use a spatula or the back of a spoon to spread out the chocolate. 

Allow the chocolate to cool, then place it in the fridge for 15-20 minutes.

Melt the white chocolate the same way as above. If you are using the Paleo option, melt the cacao butter in a double boiler. 

Once it is melted, whisk in the coconut butter, maple syrup, vanilla extract and salt. 

Pour the white chocolate mixture on top of the dark chocolate and spread out using a spatula or the back of a spoon. Alternatively, you can layer the dark and white chocolate while both mixtures are soft, and use a toothpick or chopstick to swirl the layers together.

Top the bark with the chopped EXO Cocoa Nut Energy Bar and the chopped nuts. 

Place the bark in the fridge until it has set and hardened. 

Cut or break the bark into pieces and enjoy!
Nutrition Facts (assuming White Chocolate):
Servings 9.0
Amount Per Serving:
Calories 156

Total Fat 11 g

Saturated Fat 3 g

Monounsaturated Fat 1 g

Polyunsaturated Fat 0 g

Trans Fat 0 g

Cholesterol 4 mg

Sodium 22 mg

Potassium 10 mg

Total Carbohydrate 12 g

Dietary Fiber 1 g

Sugars 3 g

Protein 3 g