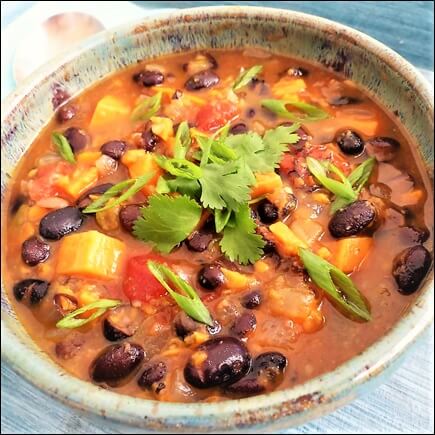 Sweet Potato Black-Bean Chili
By Chef Perry
on
Nov 19, 2019
A delicious vegetarian chili made with healthy and sustainable ingredients. Enjoy it fresh or freeze it for tomorrow!
Prep: 10 mins
Cook: 25 mins
 Yield: 6 servings
Ingredients :
2 cloves garlic, minced

1 small onion, diced

2 Tbsp. olive oil

2 sm. sweet potatoes, peeled/cubed 1-inch

2 med. carrots, peeled and sliced

3oz diced green chilies (hot or mild)

15oz fire-roasted diced tomatoes, drained

15oz can black beans, drained and rinsed

½ cup vegetable broth

1 Tbsp. New Mexico chili powder

1 tsp. cumin

1 Jalapeño pepper, seeded and diced

2 Tbsp. Exo Pure Cricket Powder

½ tsp. garlic powder

½ tsp. salt

¼ tsp. black pepper
Optional Toppings
Chopped tomatoes

Chopped cilantro

Sliced green onions

Diced white onion

Corn chips, warmed

Diced avocado

Sour cream
Prep your ingredients.
Quickly blanch sweet-potato cubes (1-2 minutes) in boiling water, drain and toss with cricket powder and garlic-salt. Set aside.
In a Dutch oven or heavy-bottom pot, sauté the onions and garlic in oil for one minute.
Stir in sweet potatoes, carrots, green chilies, and remaining spices.
Sauté until the onions have softened (about 5 minutes).
Reduce the heat to medium-low, add all remaining ingredients, and stir to combine.
Simmer chili, partially covered for 20 to 25 minutes, stirring occasionally, until the sweet potatoes are fork-tender.
Serve in bowls, add your favorite toppings, and enjoy.