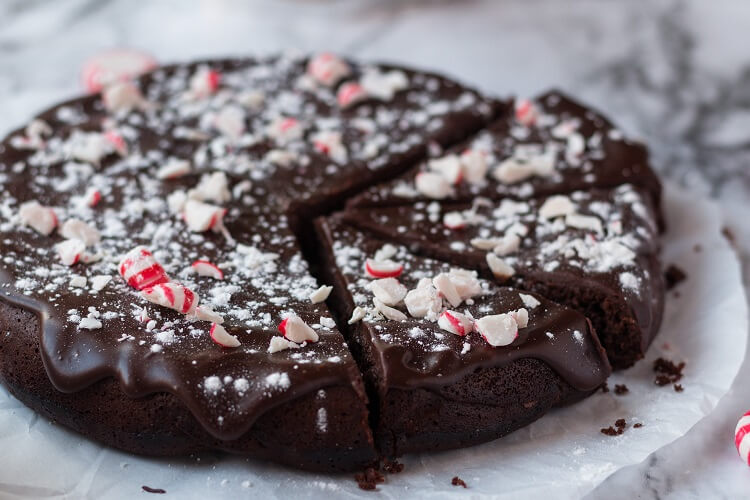 Peppermint Chocolate Cake
By EXO Team
on
Dec 18, 2019
Everything is better with Chocolate! What can be better this holiday season (or anytime) than chocolate cake? As a bonus, this cake is flourless and has no grains, and is gluten-free! We top this cake with peppermint candies which are a festive addition. Make this easy and decadent dessert for your next get together!
Ingredients:
Cake:
1/2 cup Salted Butter

3 oz. Dark Chocolate, chopped

½ cup Sugar

1/4 cup Cocoa Powder

2 Tbsp. Almond Flour

2 tbsp. EXO Pure Cricket Powder

1 tsp. Vanilla Extract

1/2 tsp. Fine Ground Coffee

3 Eggs
Ganache: 
3.5 oz. Dark Chocolate, chopped

¼ cup Coconut Milk or Cream
Topping: 
Powdered Sugar

Crushed Peppermint Candies
Directions:
Preheat the oven to 375 degrees Fahrenheit. Melt the butter and chocolate in the microwave or over a double boiler. Whisk until smooth, then whisk in the sugar and vanilla extract. Stir in the almond flour, cricket powder, and coffee. Whisk the eggs and mix them into the batter. Sift in the cocoa powder and stir until smooth.
Pour the batter into a greased and parchment-lined 8" pan. Bake for about 20 minutes or until the center is just firm. Allow the cake to fully cool.
Chop the dark chocolate for the ganache and place it in a small bowl. Heat the coconut milk in a small saucepan until it begins to boil. Quickly pour the milk over the chocolate in the bowl. Allow the chocolate and milk to rest for 1 minute, then whisk until smooth. Pour and spread the ganache over the cake. Sprinkle with powdered sugar and crushed peppermint candies. Allow the ganache to set prior to slicing and serving.
Nutrition Facts:
Servings 8.0
Amount Per Serving :
Calories 373

Total Fat 27 g




Saturated Fat 16 g

Monounsaturated Fat 4 g

Polyunsaturated Fat 1 g

Trans Fat 0 g

Cholesterol 103 mg

Sodium 121 mg

Potassium 41 mg

Total Carbohydrate 24 g

Dietary Fiber 3 g

Sugars 20 g

Protein 5 g