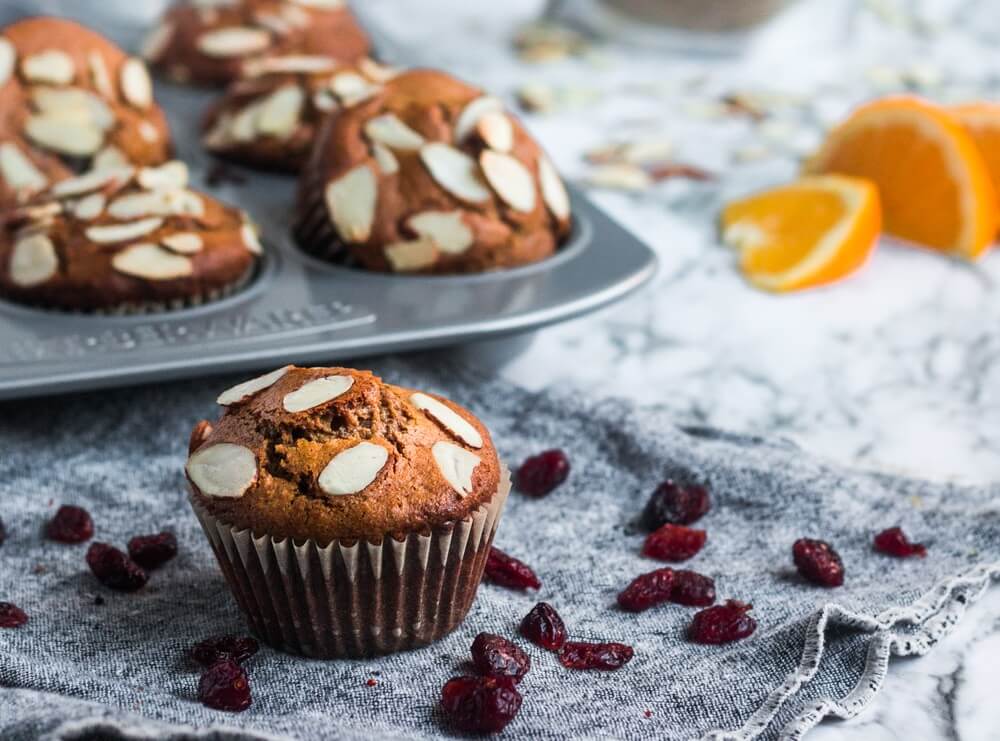 Paleo Orange Cranberry Muffins
By EXO Team
on
Oct 08, 2019
When you're looking for a quick breakfast or filling snack, these muffins are a perfect option. The cricket powder and almonds give the muffins a great protein boost to keep you fueled no matter what life throws at you. They are paleo, gluten-free, grain-free and dairy-free so they will be a hit with everyone.
Yield: 9 Muffins
Ingredients:
1/4 cup Coconut Oil, softened

1/4 cup Almond Butter

1/3 cup + 2 Tbsp. Coconut Sugar

2 Tbsp. Honey

1.5 Tbsp. Coconut Milk

1 Tbsp. Orange Juice

1 tsp. Vanilla Extract

Zest from 1/2 an Orange

2 Eggs

½ cup + 3 Tbsp. Almond Flour

1/2 cup Tapioca Starch

3 Tbsp. Exo Pure Cricket Powder

3/4 tsp. Baking Soda

3/4 tsp. Baking Powder

Pinch of Salt

1/3 cup dried Cranberries

3 Tbsp. sliced Almonds
Directions:
Preheat your oven to 350 degrees Fahrenheit. In a bowl, combine the softened coconut oil, almond butter, coconut sugar, honey, coconut milk, vanilla extract and orange zest. Whisk the eggs and mix them into the bowl with the wet ingredients.
In another bowl, combine the almond flour, tapioca starch, Exo Pure Cricket Powder, baking soda, baking powder and salt. Add the dry mixture to the wet mixture a little at a time, stirring as you go. Once the batter is well combined, fold in the dried cranberries.
Line 9 muffin tins with liners. Fill the liners with equal amounts of batter, about 2/3 of the way full. Sprinkle the tops of the muffins with sliced almonds. Bake for 16-20 minutes, or until the muffins are firm at the top and slightly golden. Allow to cool before enjoying.
Nutrition Info (per muffin):