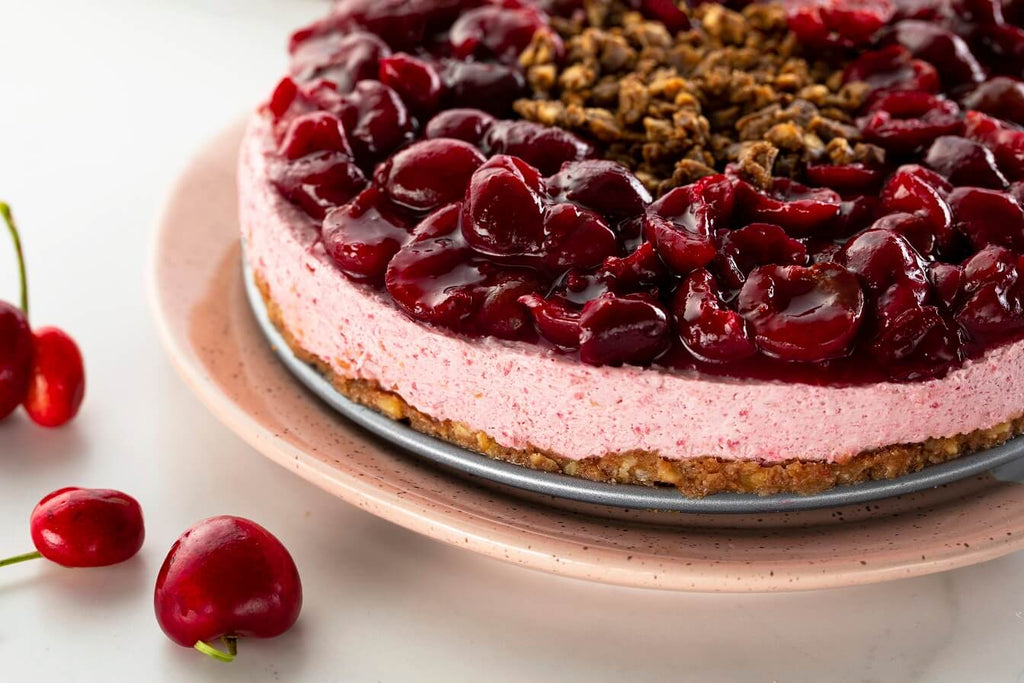 Cherry Hibiscus Cheesecake
By EXO Team
on
Sep 25, 2019
The Cricket Powder and Chocolate Fudge Brownie Bar add a boost of protein and nutrients to this make-ahead creamy dessert. The combination of cherries and hibiscus is pure indulgence and makes it ideal for all occasions.
Yield: 8 servings
Prep Time: 15 minutes, Cook Time: None
Recipe Type: Dessert, Paleo, Gluten-Free, Low-Carb
Cuisine: American
Ingredients:
For the crust:
1/4 cup EXO Pure Cricket Powder

1 cup (130g/4.5oz) ground walnuts

1 cup (3.4oz/96g) almond meal

2 tablespoons monk fruit or another sweetener of choice

1/4 cup butter or ghee, melted

A pinch of salt
For the filling:
2 tablespoons dried hibiscus flowers or 3 bags hibiscus tea

1/3 cup hot water

1 heaped tablespoon gelatin powder88

2/3 cup (150ml/5oz) heavy cream

1 tablespoon EXO Pure Cricket Powder

8oz (226g) cream cheese, softened at room temperature

2 tablespoons keto-friendly sweetener of choice

Zest of 1 small lemon
For the topping:
1 1/2 cup fresh or frozen cherries, pitted

2 tablespoons lemon juice

1 tablespoon monk fruit or another sweetener of choice  

1 teaspoon arrowroot

1 tablespoon water

1 EXO Chocolate Fudge Brownie Bar, coarsely chopped
Instructions:
Lightly grease a 7.5-inch springform pan and set aside.


For the crust, combine Cricket Powder, walnuts, almond meal, sweetener, and lemon zest; add the melted butter and a pinch of salt and mix together. Press the crust onto the bottom of the prepared pan and refrigerate for 10-15 minutes.


In a small bowl, place the dried hibiscus flowers (or tea bags) and pour over the hot water. Set aside to infuse and cool to a room temperature, about 10 minutes. Drain the liquid into another bowl and stir in the gelatin.


For the filling, in a large bowl, whisk together the heavy cream, Cricket Powder, cream cheese, sweetener, and lemon zest. Spread the filling over the chilled crust and refrigerate for 3-4 hours or until set.


For the topping, in a medium pan, combine cherries, lemon juice, and sweetener and cook over a medium heat for about 5-7 minutes, or until the cherries start releasing their juices, but are still intact. Mix the arrowroot powder with the water and stir into the mixture. Remove from the heat and let cool to a room temperature before spreading over the top of the cheesecake. Scatter the chopped Chocolate Fudge Brownie Bar over the topping.



The cheesecake will keep in an airtight container in the refrigerator for up to 3 days and up to a month in the freezer. 
Nutrition Facts:
Amount per Serving (124g)
Calories 435kcal | Total Carbohydrate 15.7g | Dietary Fiber 4.4g | Total Sugars 8.1g | Net Carbs 11.3g |Total Fat 40.5g| Protein 11.8g
While we strive to keep the nutritional information as accurate as possible, please make your own calculations with the actual products you use.